When I think of the AMG brand, my mind conjures up images of powerful V8s and overpowered inline-fours. Which is why when Mercedes-Benz India said they'll be bringing their first AMG-badged all-electric sedan to India, the incongruity of that statement brought about another one of those traditional 'Urgh, but why?' thoughts. It's no secret that I tend to be on the conservative side when it comes to battery electric vehicles, but an AMG-powered EV is something I should have expected to come along, sooner or later. After all, the technology for fast EVs already exists — I'm talking, of course, about Formula E.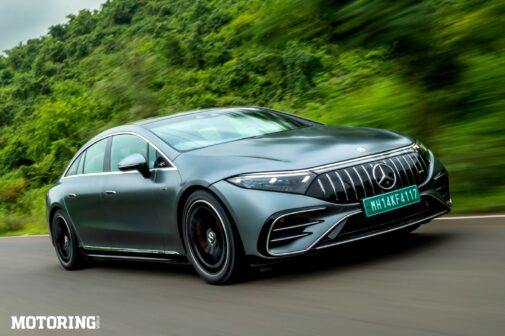 At first glance, this svelte-looking sedan is, for all intents and purposes, the all-electric version of the go-faster Mercedes-Benz S-Class. The EQS AMG looks very little like the S-Class or even the S 63 AMG, but there's a regal, yet bruiser sort of character going for it. It is quite unlike any roadgoing Mercedes available in India so far to look at but does have some of those cues that will cause instant brand recognition. Those oversized air intakes in the front bumper lend it a mean look, while the sinister black alloys and gratuitous spoiler give it all the sportiness you could want from your AMG. So, the EQS AMG definitely has that going for it.
Despite the spoiler, the standard EQS and the EQS AMG both share a 0.23 drag coefficient, making them both claim the title of the most aerodynamically efficient production car, for now. The EQS AMG does give the very strong impression of a low-slug sporty sedan, one that is capable of ferrying four in absolute comfort, while being an absolute firecracker of a vehicle. There are badges on the grille, boot, and front fenders — AMG, AMG, and 4Matic+, respectively — that also lend credence to this EVs abilities. That metallic grey finish adds to that sporty presence, too.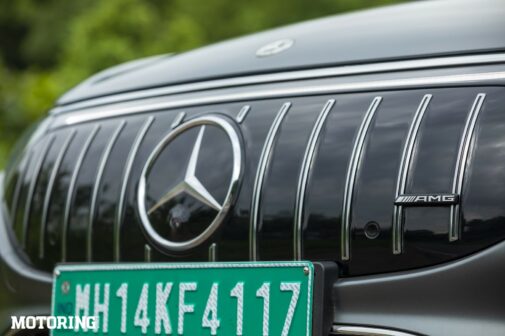 That special feeling of being in a Mercedes-Benz is palpable in the EQS AMG, though I think they've finally taken it too far with the number of screens. Like in the EQS, the AMG-powered version gets a touchscreen for the passenger, which looks nice and techy, and is superb to use besides (but only when the car is parked), but it does reflect sunlight into the driver's eyes when the sun is at its zenith. Comfort, fit and finish, and even the ambience is top-notch, but not S-Class (or S 63 AMG) level, but definitely a cut above the E-Class, and its respective full-fat AMG version.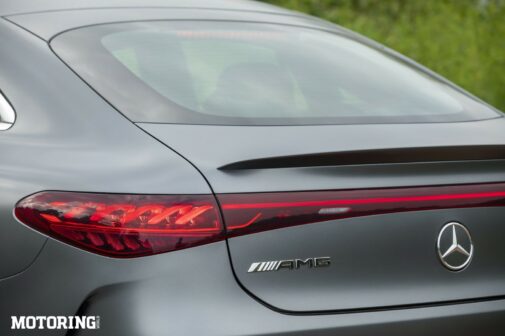 Other than the sporty silver, grey, and black theme on the inside, there's really not much difference between the EQS 580 and the EQS 53 AMG. Only a careful look will reveal certain details, such as that this EV gets a Sport+ mode, and that you get all the AMG-related information and race-ready tech on the massive digital instrument cluster and the even bigger touchscreen infotainment system. That Burmester sound system definitely deserves a mention, as besides playing your favourite tunes in excellent form, they also pipe in sounds that are meant to suit how fast you're going.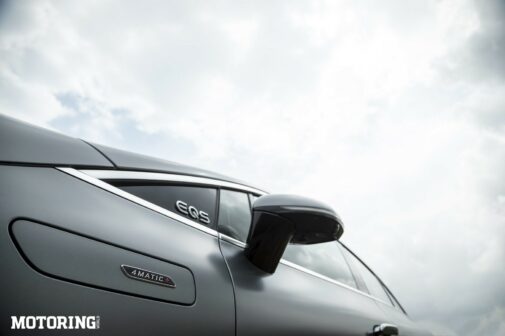 Switch on the EQS AMG, set the dial on the steering to Sport+, and give it the beans — you'll be pushed back into your seat, hard, by a whopping 104 kgm of instant torque, reach 60 kph in 2 seconds, 100 kph in just 3.4 seconds, hit the 250 kph limiter soon after, and all the while, hear a sound that mimics that of a jet-engined plane taking off. It's gimmicky, but quite addictive, especially with that rush of torque. Considering the EQS AMG weighs nearly 2.7 tonnes, Mercedes and AMG are almost breaking the laws of physics here.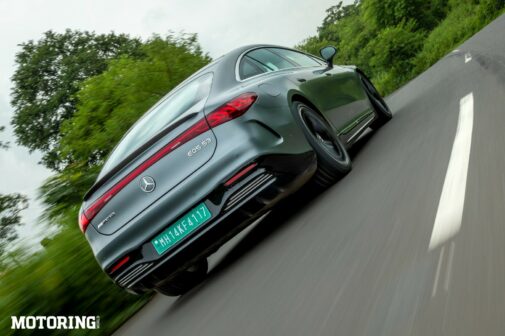 It's a shame you won't be able to use the EQS AMG to its full ability at most times because despite the massive output figures — at 751 bhp, it is the most powerful AMG yet — the car is quite easy to control. The electric motors mounted at each axle simulate all-wheel drive, and there's rear-wheel steering that helps the car take corners quite unlike anything else that's 5.2 metres long. It's confidence-inspiring to another level to drive this EV fast, and it completely belies the numbers you're dealing with, which is a good thing and a bad thing.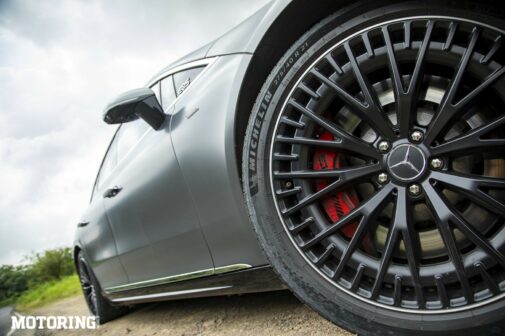 I guess the days of barely controllable beasts are going the way of fossil fuels, but at the same time, you have to appreciate the wizardry in making something so powerful, so effortless. And that aspect really shines through when you're sedately driving in the city. Sure, the size makes for nervous driving on our crowded roads, but the ease comes through brazenly — it's surprisingly undemanding to manoeuvre in tight spaces thanks to the rear-wheel steer, and the AMG Ride Control+ air suspension allows for an additional 25 mm of ground clearance, which is extremely useful over larger speed breakers.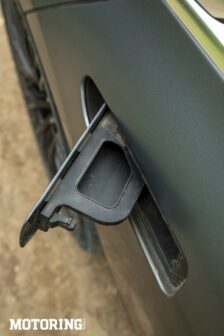 Still, use great caution while traversing them as the 3210-mm long wheelbase and maximum of 139 mm of ground clearance will see you scrape the bottom. In addition, if you do end up using the function too often, it'll (understandably) overheat, and switch off until the system cools down enough to function again. Nevertheless, it's downright brilliant that this suspension setup balances a plush ride and corner-carving capabilities in a manner not usually seen.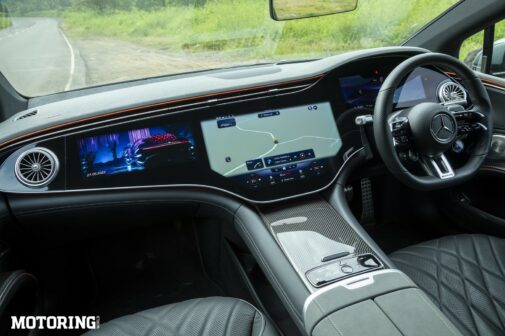 What also helps keep the driver engaged, is the low centre of gravity — you can barely feel the weight through corners, and the level of confidence that it produces eggs you on to take the corners faster. The 275/40 R21 tyres are also a good match to the EQS AMG, and India's roads as they aren't low-profile enough to make the ride jittery, but aren't high-profile enough to take away from the sportiness of the package.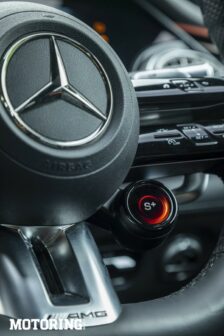 On the other hand, the steering feel and brake feedback is lacking in comparison to some of the more hardcore ICE AMGs, and the torque split is biased towards the front wheels, so understeer does set in when you're at the limit. However, these are small compromises. The AMG-badged EQS definitely plays both roles to near perfection — being athletic and enjoyable, yet comfortable and plush. You also get that peace of mind most EV owners would gladly pay more for, the 580 km WLTP-certified range.
In the real world, expect over 350 km on a single charge from this massive 107.8-kWh battery, even if you're giving it the beans throughout (and making your rear passengers sick). Although that also means that it takes a lot of time to charge the battery pack — a 25-kW DC fast charger will take about four hours to charge the battery to full, while a standard AC wall plug will take over half a day. Still, the ability to go significantly long distances, while enjoying yourself thoroughly, before needing a break is a first for an EV in India.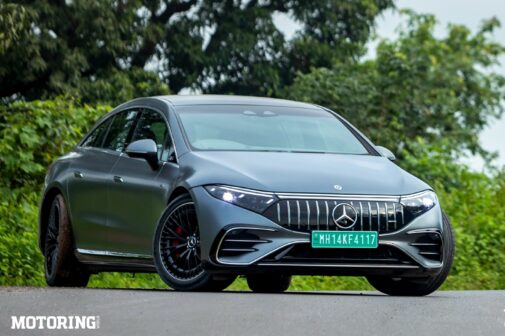 Whether this EQS is a true AMG or not is a bit subjective. I, for one, feel it's a rather brilliant first attempt at a mass-production fast EV, though there's still work to be done to make it as exciting as any of the other AMGs on the market. And at Rs 2.45 crore, ex-showroom, India, it costs about as much as the most expensive ones. And yet, there will be those who will find the Mercedes-AMG EQS 53 absolutely worth it. I mean, if I had the money, this would be a very high consideration for my garage. Oh, to live in that fantasy world.
AUTODATA
Mercedes-AMG EQS 53 4Matic+
POWERTRAIN
Battery:
Max Power:
Max Torque:
Range:
107.8 kWh
751 bhp
104 kgm
580 km (WLTP)
DIMENSIONS
L/W/H (mm):
Wheelbase:
Ground clearance:
Kerb weight:
5223/2125/1518
3210 mm
114-139 mm
2655 kg
PRICE
Rs 2.45 crore (ex-showroom, India)