They like to do things differently, the French. Not for them the tried and tested, the conventional, the banal. They like instead to fly the flags of contrarianism, and of rebellion (you only have to cast your mind back to certain events between 1787 and 1799, which ended very badly for anyone wearing a crown). Their music, art, cinema and food cannot be mistaken for any other culture, and the same can be said of their automobiles. The French have designed and built some of the greatest cars of all time (and a lot of absolute lemons, although they'll refuse to admit as much), and they have a refreshing approach to the industry, in that their attitude is usually 'Zis is 'ow we make cars. If you like eet, that's good. If you don't like eet…' (at this point they usually shrug their shoulders and make that oh-so-French popping noise).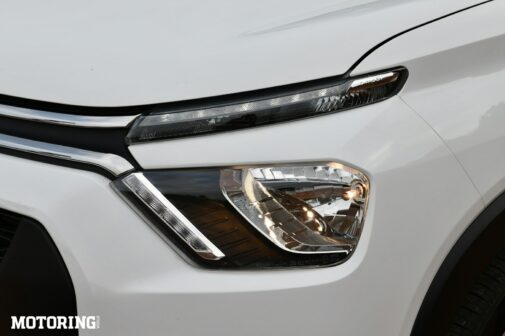 Do I like the new, made-in-India Citroen C3, then? The honest answer is that I like a lot of eet, but I also don't like some of eet, which I'll get to in a… beet. First, some background information. The C3 is an old hand at the game, since it's been around from 2002 and has been through several iterations; it's been very popular in European as well as South American markets. This car is the first of three models that will be made under Citroen's 'C Cubed' programme, and it's been designed specifically for markets like ours and South America; it'll be manufactured here with a very high degree of localisation at the firm's Thiruvallur plant, while its powertrain will be sourced from the PSA plant in Hosur. Citroen claims that it's put the C3 through 25 lakh kilometres of testing and over 250 quality checks — so far, so rigorous.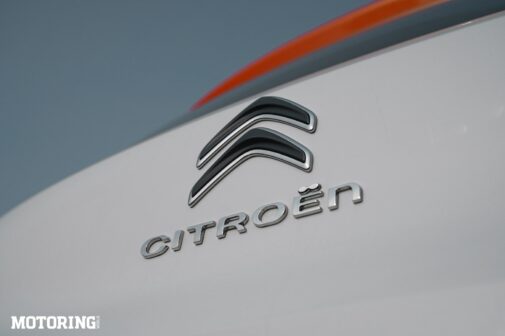 The good beets first. Straight off the bat, this is a fun and funky-looking hatchback. Wait, is it a hatchback or a compact, sub-4 metre SUV? Citroen insists it's a 'hatchback with a twist' (what did I say about the French doing things differently?), and that's a pretty gutsy thing to say given that the SUV segment is the hottest one in the country right now. Frankly, there are way too many large hatchbacks passing themselves off as SUVs right now, and I appreciate the manner in which Citroen is describing its first mass-market product in India. That said, the average car buyer is going to look at the C3 and say 'SUV' because — well, they've gotten used to saying so.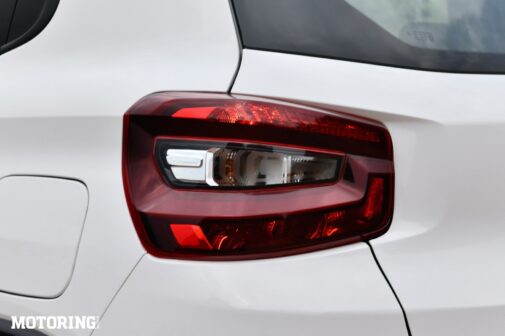 However you choose to describe it, there's no doubt that the C3 is a looker, especially in a shade of elegant grey with orange accents. Its older brother, the C5 (now that's an SUV, and an excellent one) is probably the most striking-looking vehicle of its kind on sale here, and the C3 receives several of its design touches. It looks substantial, with its high stance and 180 mm ground clearance, and its front is quirky-but-cool; I really like its split-LED headlights and the slim LED DRLS, and the way both integrate seamlessly into the famous Citroen double chevron on the grille (the hexagonal fog lamps balance out the front superbly, too).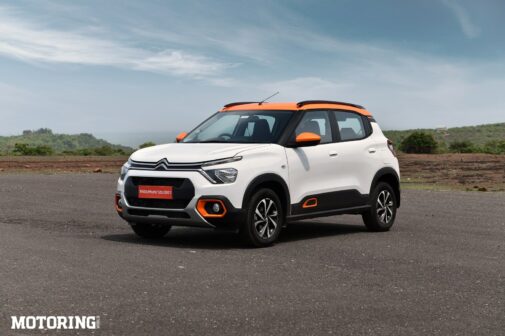 The car has plenty of black cladding all over it (another SUV-esque touch), along with roof rails, blacked-out pillars and diamond-cut two-tone wheels. Its best views are from the front 3/4th and its profile — its sporty design really comes through here. The rear is relatively bland compared to its other angles — there's an upright tailgate, a dual-tone bumper and rectangular tail lamps. The C3 is 3981 mm long, 1733 mm wide, and 1604 mm high, with a wheelbase of 2540 mm. These numbers are simultaneously at par with the rest of the segment and better — it's longer than the Punch, for example ( the Tata is a wider car) and its wheelbase is more than on cars like the Hyundai Venue and Kia Sonet.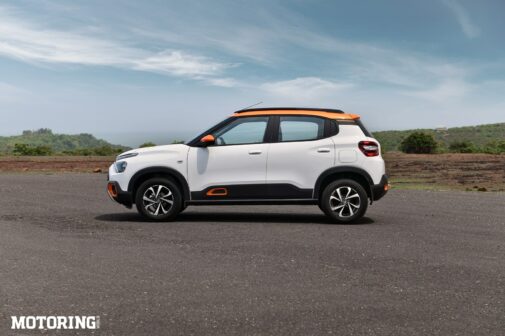 You can choose your C3's colour in a few ways. There are four standard shades — Polar White, Zesty Orange, Platinum Grey, and Steel Grey — and six dual-tone options which you can create by pairing two of these four colours (the Platinum Grey with a Zesty Orange roof is the business). There are also three customisation packs — Zesty Orange, Platinum Grey, and Chrome.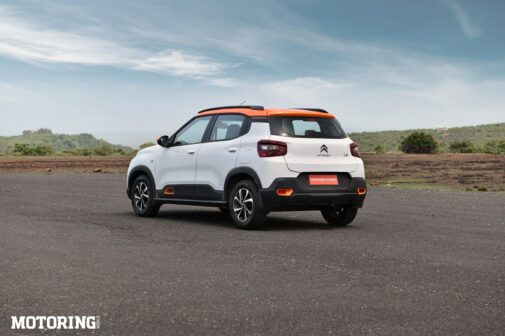 Pretty good going so far, I'd say, except for a few complaints. Look at those door handles — they're of the lift-up variety, which makes them look dated, and they're also a little cumbersome to operate, given that everyone's become so used to pull-type handles. Peek inside the front of the cabin and you'll see stalks for manually adjusting the ORVMs (which don't fold in automatically when you lock the car). I'm all for old-school, but I draw the line at having to go back to leaning across the passenger seat to fix my angle of view; powered mirrors really should have been offered as standard on the top-end Feel variant, at the very least.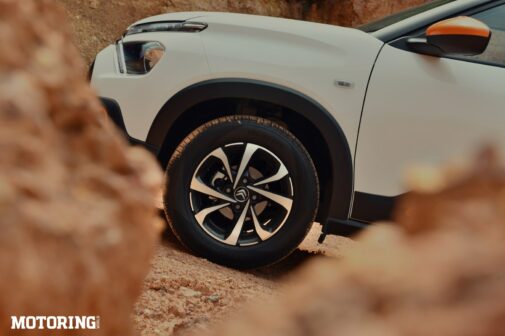 There's more (or less, to be precise) — the wheels are steel, and alloys are only available as options even on the Feel version. The rear windshield doesn't come with a wiper, which is inexplicable in this day and age. The boot — although reasonably spacious at 315 litres — has a high lip, so you'll have to put your back into it while loading heavy bags and large items. These could perhaps be described as minor issues, but then again, I'm not so sure — the Indian car buyer today expects a lot for their money.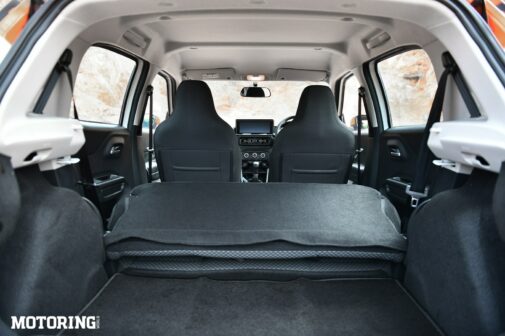 The cabin is much like the exterior — it has many things to appreciate and some omissions that will have you scratching your head. First off, it's airy, spacious and very comfortable — the seats are probably the best in this segment, providing great back and thigh support. While driving, you sit high up and get an excellent view of the road ahead, and the passengers at the back have plenty of leg and head room. The rear bench — without a centre armrest — is best for two adults (there's a contour on it for the middle passenger's derriere). All the seats have fixed headrests, but this is a cost-cutting measure I can live with because they offer good support.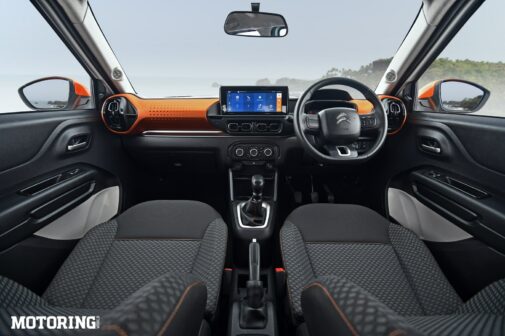 The dashboard has a somewhat OTT dimpled orange panel on it (there's also a grey one available), although the A/C vents are quite cool despite looking busy visually. A 10-inch infotainment system with wireless Apple CarPlay and Android Auto sits on the dashboard, and although I didn't use it extensively, it seemed to work just fine; next to it, there's a notch to clip your phone into, which is a useful touch. The steering wheel looks like it's straight off the C5 (in a good way), and the gear lever's been designed to look like it's an automatic, which is… neither here nor there. Charging ports, you ask? There are enough, and they're all USB-A.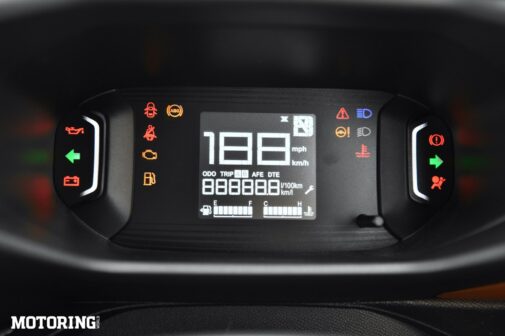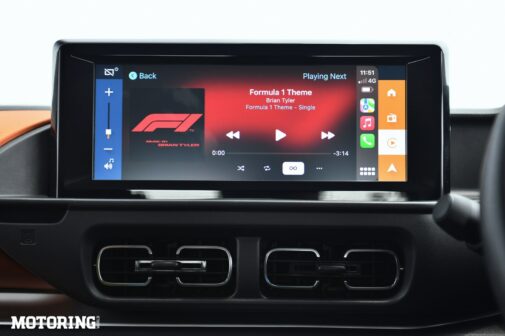 Now for the demerits, as promised. No push-button start, automatic climate control or reversing camera (there are rear parking sensors, but come on, a camera is a must these days). No power window switches on the rear doors; they're on the centre console, which is rather annoying. The small, square monochrome digital instrument panel looks like it's from the Tetris age, and it doesn't have a tachometer; because it's so small, the information is densely packed and hard to read at a glance. The plastics and fabrics aren't that great, but at least Citroen has stayed away from using those ghastly piano black shiny surfaces. Honestly, with the amount of cost-cutting going on in this car, its price had better be very competitive.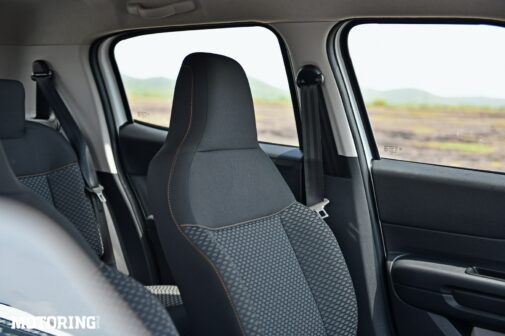 Under its sporty bonnet, the C3 sports one of two available engine options. The base Live variant has a 1.2-litre, 3-cylinder, naturally aspirated petrol engine making 80.8 bhp and 11.7 kgm of torque (the Feel model can be ordered with this engine too); not world-beating numbers but par for the segment. It's mated to a 5-speed manual gearbox which has slightly stiff throws, but is easy enough to use otherwise. The engine is like most other small-capacity 3-pots — up for the job without being remarkable. It's reasonably refined and quite happy to be driven around at slow speeds, without feeling grumpy. It does need to be revved hard to get it moving at pace, but you'd expect that with this kind of engine.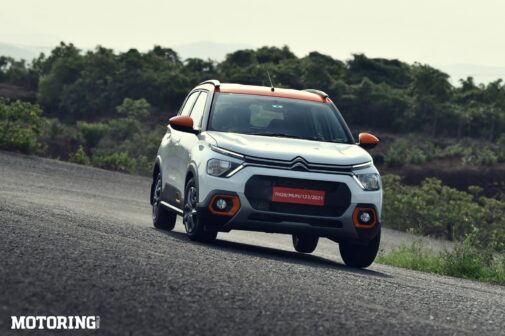 The infinitely preferable option, however, is the turbo-petrol that comes only with the Feel variant. It's also a 1.2-litre 3-pot, but it makes a very healthy 108 bhp and 19.3 kgm (for reference, my old VW Polo 1.6, a proper rocket, makes 105 bhp and 15.6 kgm). The C3 literally becomes a different car with this engine; a dab on the accelerator is enough to get it darting off its line, and pedal-to-the-metal behaviour will have you grinning widely as it scoots towards the horizon. There's a broad spread of torque available throughout, and though the 6-speed manual gearbox feels like it's overkill, it feels nicer to use than the 5-speed one. Before you ask, there is no automatic on offer (as yet), which is another head-scratcher — I know people who wouldn't touch a car in this segment unless it came with an automatic gearbox, and Citroen's missed a trick by not offering one at launch.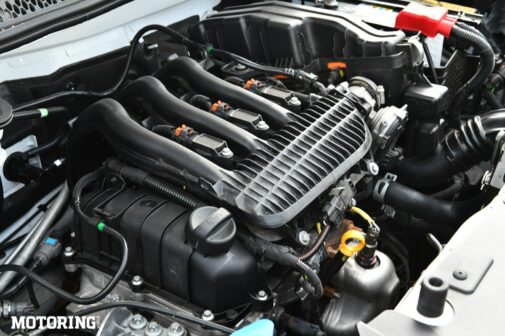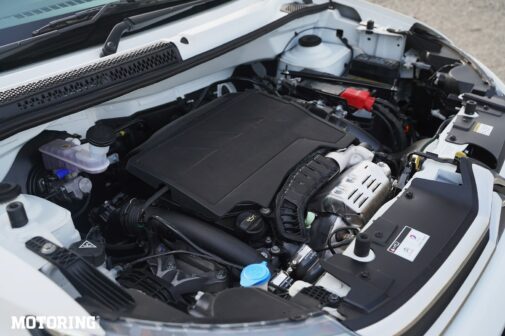 The C3's big brother has outstanding ride and handling characteristics, and thankfully those have been passed down to Junior as well. I attempted to unsettle the car over a variety of rough roads, bumps, speed-breakers and whatnot, and not once did it agree to do so; both at the front and at the back, passengers said they barely felt the bumps coming through, and the comfortable seats really helped as well. The C3 feels solidly planted in a straight line, when overtaking at speed and when chucked around corners; it's only when you act like a hooligan that it starts to protest.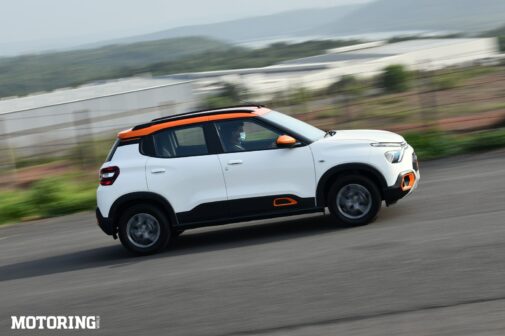 What we have here is a car that's very likeable and also somewhat frustrating. Granted, India is a price-conscious market and manufacturers really have to walk all manner of tightropes to be able to compete, so Citroen's cost-cutting strategy is understandable — but I think it's been taken a little too far. The competition offers more standard features in its cars, and even though the C3 can be specced out at the dealership with four packs — Vibe, Elegance, Energy, and Convenience — it remains to be seen how Indian buyers will react to having to pay more for features, when competing cars come with them built in. I expect prices to begin at Rs 5.5 lakh when they're announced in July, and for the money, the C3 makes for an interesting, if flawed, buy.
PHOTOS Citroen
AUTODATA
Citroen C3
POWERTRAIN
Displacement:
Max Power:
Max Torque:
Transmission:
1198/1199cc, I3, NA/turbo-petrol
80.8 bhp/108 bhp
11.7 kgm/19.3 kgm
5-speed manual/6-speed manual
DIMENSIONS
L/W/H (mm):
Wheelbase:
Ground Clearance:
Kerb Weight:
Fuel Capacity:
3981/1733/1604
2540 mm
180 mm
939-1035 kg
30 litres
PRICE
Rs 5.5 lakh onwards (ex-showroom India, estimated)