There's been no dearth of new cars from Maruti Suzuki's stable this year, but the most recent one that has launched at a very attractive Rs 3.99-5.84 lakh, ex-showroom, finally brings back an aspect that, in my opinion, has been lacking. All the recent launches — from the Baleno and XL6 to the Brezza and Ertiga — all have the hallmarks of being sold in great numbers, but none of them are particularly fun to drive. And that's why the Maruti Suzuki Alto K10 comes as a breath of fresh air, with a hint of nostalgia.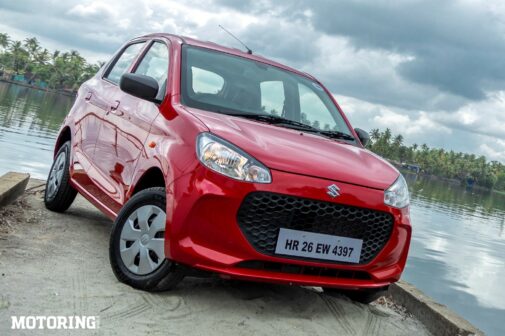 After all, this isn't a new nameplate — the previous Alto K10 was discontinued a little over two years ago with the advent of BS6 norms. However, other than the name and the size of the engine, there's very little in common between the older model, and this all-new Alto K10. It is underpinned by the Heartect platform, looks like a proper Kei car, and comes with equipment that leaves the older model feeling decidedly, well, old. Another massive advantage over the older K10 is the space on the inside — my portly five-foot-nine frame and Kaizad's near-six-foot lanky one had nothing to complain about, regardless of whether we were sitting in the front or the rear seats.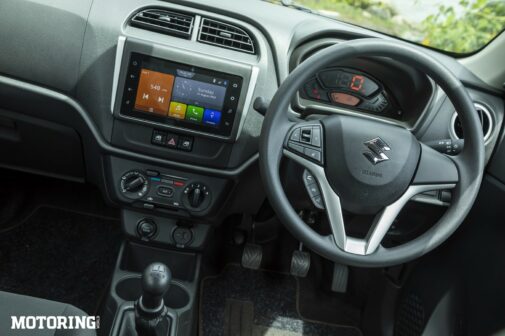 Maruti has always done a great job of putting vertical space to great use, and the new Alto K10 is no exception. There's more than ample space for four passengers (including the driver), though fitting in a fifth would see shoulders (and hips) rubbing in a not pleasant way. What's more, rear passengers will have to use the old-school window handle to open or close their windows, and they won't have any cubbies for bottles either, as the space on the door has been taken up by the rear speakers.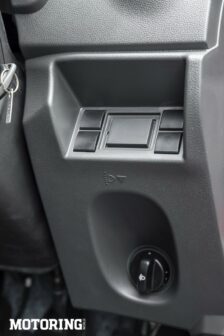 And speaking of the speakers, they are good for a car in this price bracket, delivering a decent amount of bass. However, they will sound tinny if you use the steering-mounted controls to dial the volume up to full. Android Auto and Apple CarPlay can be accessed on the 7-inch touchscreen infotainment seamlessly via the USB input, and there's an aux input for those who are inclined that way as well. The orange digital instrument cluster is a simple but legible unit as it has all the basic info you'll need — such as distance to empty, average and instant fuel economy, trip meters, an odometer, and a gear display — but I feel a tachometer is a much needed, and quite missed, feature.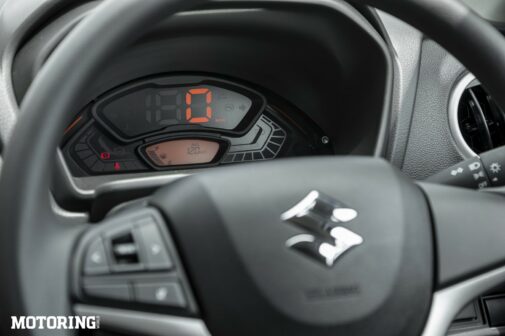 It came as something of a surprise that the front and rear seats offer more than reasonable amounts of support — from the thighs and lower back to the neck and sides — despite there being no moveable headrests. Even finding a good driving position is relatively easy despite the lack of a height adjustable seat or a tilt adjust for the steering. It's a commanding view out for a hatchback, though I do wish the seats (at least the driver's) were placed a little lower. Everything is within easy reach of the driver, other than the manual adjustment for the passenger side rear view mirror. Still, the car isn't so wide that you'll need to be proficient in yoga to reach across.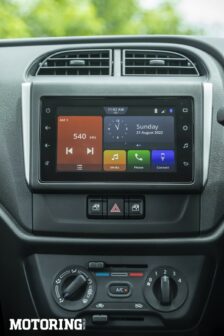 What I also feel is a major improvement is the way the small hatchback looks. I adore this Kei car flair the new Alto K10 has got going on. I particularly like the chibi-style face, the subtle bonnet crease, and the overall lines, which serve to make the front look wider than the car is. The squarish tail lamps are a nice callback to the 800's unit, but look a bit too familiar (Celerio, anyone?) and don't manage to hide the narrowness. Those massive wheel arches deserve far larger rims than the 13-inch steel wheels shod in 145/80 R13 rubber. In fact, 15-inch wheels and 165/60 tyres would look great right there.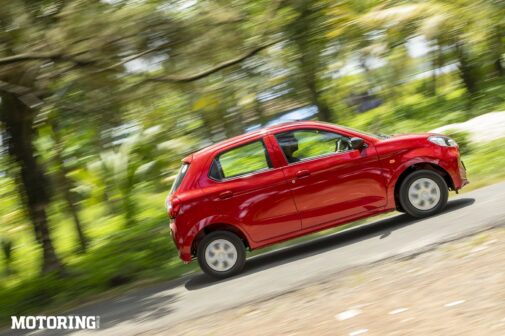 Still, those tyres do a more than decent job of most things — your everyday driving, your everyday ruts and speed breakers, etc. — and a surprisingly adequate job when push comes to shove. One thing that has remained from its predecessor, is the Alto K10's peppy nature. Maruti Suzuki says it's even lighter than the Alto 800 thanks to the Heartect platform, and the 998cc three-cylinder DualJet petrol engine is almost as rev-happy as its BS4 counterpart. Yes, you can feel that some of that performance potential has been dialled back in favour of economy, but that high power-to-weight ratio spells oodles of fun.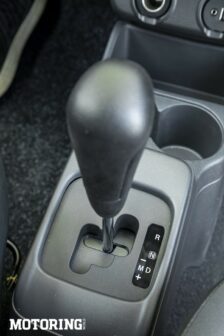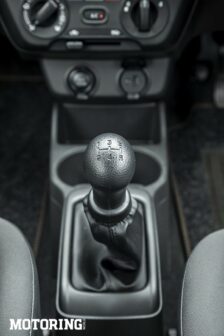 There are five-speed manual and AMT options to choose from, and it is with the smooth-shifting manual — with its firm, but light clutch — that is quite a blast to muck about in. As you can probably see from the pictures, it took six tries to get that specific jump shot, and I loved doing it again and again. It potters around the city well enough, even in a higher gear, but extract what potential Maruti has left in the engine and the Alto K10 is a fair pocket rocket.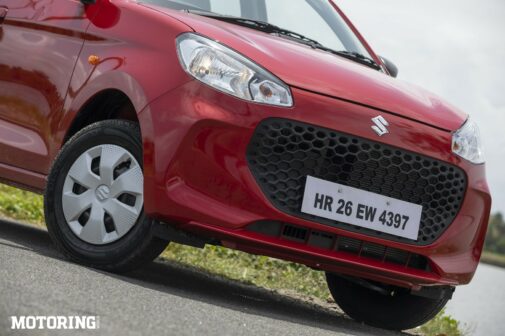 For overtaking in the city, or out on the highway, the engine and the manual gearbox do a splendid job. It is especially gratifying in the city as you're able to squeeze into gaps and edge out your fellow traffic users (you know, I'm talking about those ridiculously slow ones). It should be noted that the suspension, and the chassis, held up beautifully through each of those six runs, and the brakes and weedy tyres managed to rein it all in before it became unmanageable. Ride quality is generally good, particularly for something this size, and there's a maturity to the Alto K10's build that left me impressed.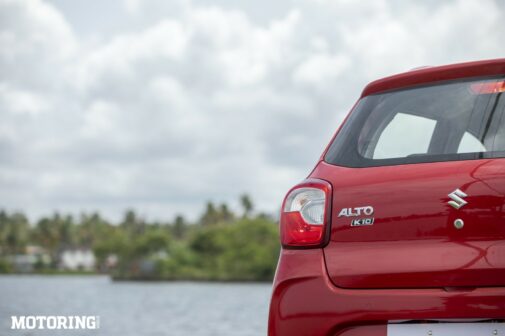 Come to think of it, body roll was also not too pronounced when shoved into a corner, though the feeling that ticker tyres would make the package much better became more obvious. The AMT is good enough for someone who wants the convenience of an automatic, but it doesn't respond half as well when asked to pull off some enthusiastic stuff. And that's even when you drive around AMT gearboxes' idiosyncrasies. Again, fuel economy is the goal here, and that it manages to achieve around 13 kpl (with a very heavy right foot) without question is commendable.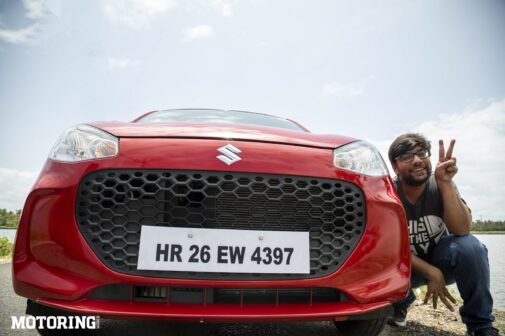 I can't help but think of the sheer mod potential here. For Rs 5.34 lakh, ex-showroom, Delhi, you get an excellent base car in the top-spec VXi+ variant. Put in around Rs 25,000 for tyres, Rs 20,000 for good alloys (Maruti has a few options in its accessories bin), Rs 20,000 for a stiffer set of springs, and Rs 10,000 for an end can that'll allow the K10C engine to exhale better, and you'll get a seriously quick and fun car (with a practical enough nature) for around Rs 7 lakh. A low-to-the-ground, sporty-stanced, cutesy Kei car, with a power-to-weight ratio that'll make AMG blush — how can you say no to that?
AUTODATA
Maruti Alto K10 VXI+ MT & AMT
POWERTRAIN
Displacement:
Max Power:
Max Torque:
Transmission:
998cc, I3, petrol
66 bhp@5500 rpm
9.08 kgm@35000 rpm
5MT & 5AT
DIMENSIONS
L/W/H (mm):
Wheelbase:
Ground Clearance:
Kerb Weight:
Fuel Capacity:
3530/1490/1520
2380 mm
NA
NA
27 litres
PRICE
Rs 5.34-5.84 lakh (ex-showroom, Delhi)