Before you present your snarky comments, yes, it's called the Hyundai Santro. There's no suffix or an entirely new name for the car codenamed AH2. And why should there be! Hyundai India ran a public naming campaign for the Renault Kwid rival. And as you must've read 'Santro' turned out to be the most popular name.
But far away from the car that it shares its name with, what else is common between the two, you must ask. To start with, Hyundai's not in a mood to let the strong brand connect of the Santro go waste. So the almost synonymous spacious cabin, peppy engine, and tall-boy styling are pretty much present. In addition, there's a safer structure, more advanced features like a full-fledged touchscreen infotainment system, lower noise inside the cabin, among other things.
Hyundai has also worked on the suspension to offer a comfortable ride. The body structure uses 63 per cent high strength steel, so that's a good start. In addition, the standard safety kit includes a driver airbag, and ABS with EBD. There's a powerful AC unit, complete with rear AC vents. And the engine and gearbox choices are wider than ever: like the original a 1.1-litre naturally aspirated petrol engine powers the car. It makes 68 bhp and 10.1 kgm, and is available in both petrol and CNG options. A 5-speed manual gearbox is standard but you can also opt for a 5-speed AMT — a first for Hyundai. It must be noted that the CNG version is slightly down on power at 58 bhp and 8.6 kgm, but delivers 30.5 km per kg. The petrol version is claimed to manage 20.3 kpl.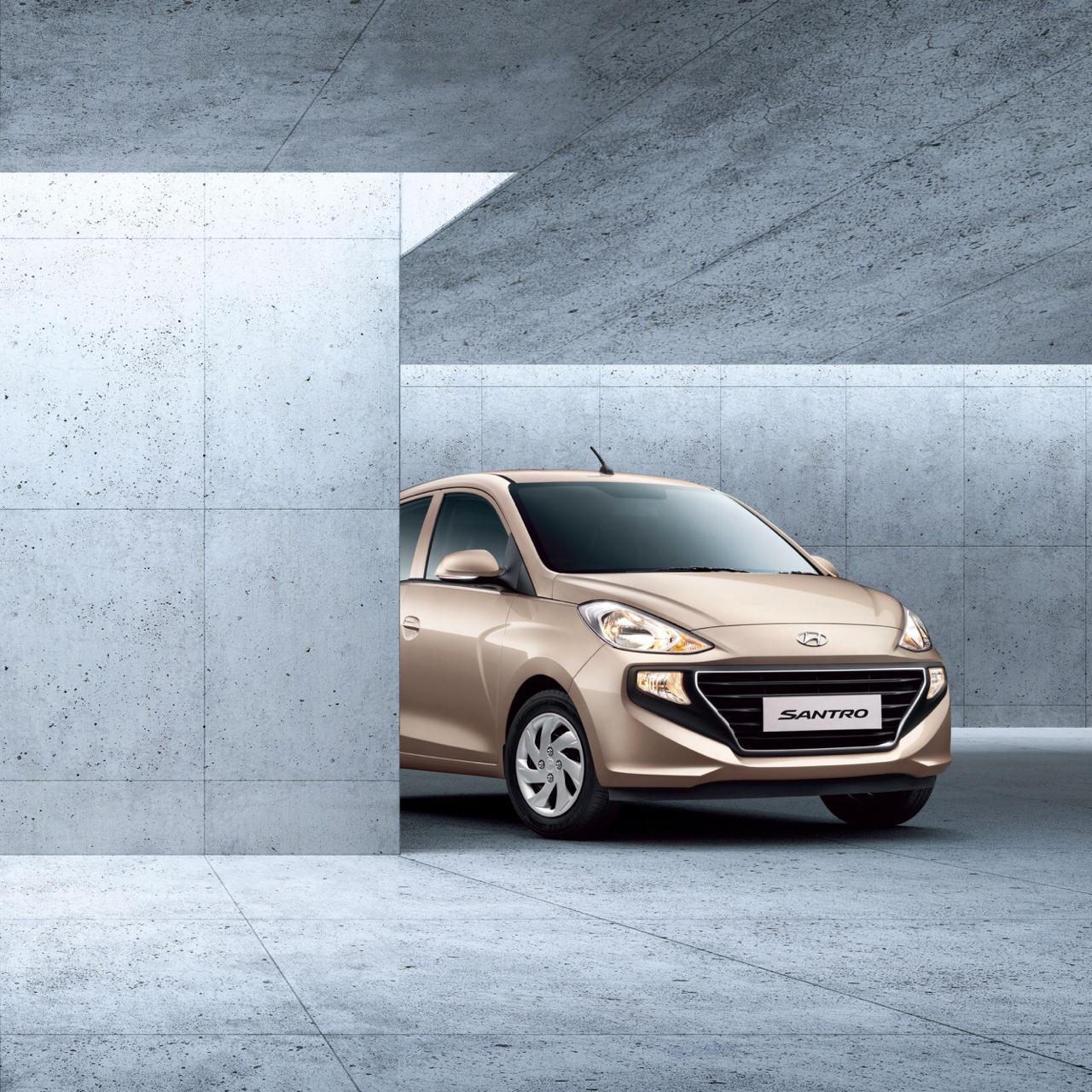 For those interested in features, the 17.64-cm touchscreen system comes with Mirror Link, Voice recognition, and even a reverse parking camera. New-age connectivity suites like Android Auto and Apple CarPlay are present as well. Another thing Hyundai's emphasised on is the easy ingress and egress owing to the car's tallboy design. There's also a 3-year/100,000-km warranty and a 3-year RSA backing it.
Pre-bookings for the car open tomorrow (that is on October 10) till October 22 (that is a day before the launch). As an introductory offer, Hyundai is accepting the first 50,000 bookings against a deposit of just Rs 11,000. The car will be launched on October 23, and other details like prices, variants, etc. will be announced then.
HMIL's MD and CEO, Y K Koo said, "Today is a historic and proud moment for us, as India has unanimously chosen the name of their favourite family car to be called the all-new Santro. Since its first launch, the Santro created history with its numerous segment-first innovations and became the complete family car for millions of Indians. The all-new Santro is based on the six key pillars — modern stylish tallboy design, comfortable and premium cabin, new-age technology, customer-centric safety, all-round performance, and complete piece of mind — to become a game changer and benchmark product in the Indian auto industry. The all-new Santro will also debut advanced in-house-developed Smart Auto AMT and offer factory-fitted CNG option."