DNA or deoxyribonucleic acid is a complex molecule that contains the genetic code that helps an organism sustain. It gives each individual a unique identity, too. You know something like Aadhar but more scientific — and useful. Its structure is often described with the help of the term 'double helix'. Think of it as two helical strands joined by chemical bonds. You know, something like this: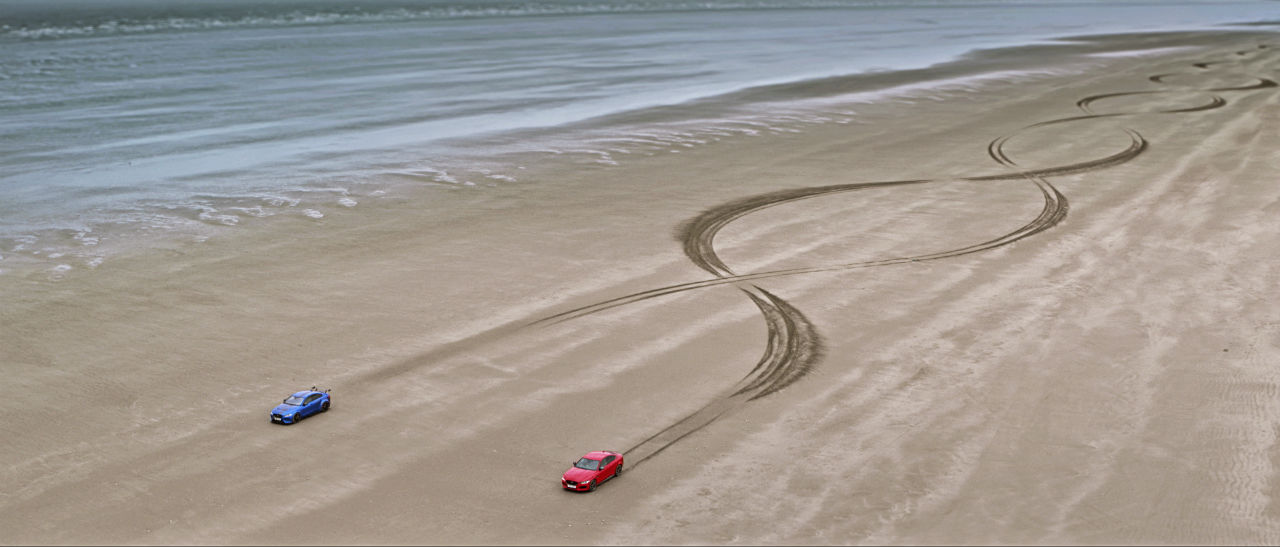 The Jaguar XE 300 Sport and the Project 8 both share the same DNA. And what could be a better way to show that than by creating a 1000-metre-long double helix pattern on Pendine Sands in the UK (Wales). With which we can conclude the Science lesson for today.
Back to the more interesting bit, the cars, that is. Both the XE 300 Sport and the XE SV Project 8 are derivates of the XE. The former is powered by a 2-litre turbocharged petrol 'Ingenium' engine. The Project 8 on the other hand is a bespoke, limited-run hot rod made by Jaguar's Special Vehicle Operations. It's powered by a supercharged V8 and is full of lightweight, race-car bits including an optional roll cage. Both have an aluminium architecture and an all-wheel drive system. They are the book ends of driver-orientated Jaguars. One's a saner everyday car with a sporting intent. The other is an out-and-out performance machine that's managed to set the fastest lap time in its class (four-door saloon) around the Nurburgring Nordschliefe — at 7 min 21.23 seconds.
JLR's Chief Engineer for Vehicle Integrity, Mike Cross said, "The aluminium-intensive body construction of the XE enabled Jaguar to create a car as special as Project 8. These two saloons share the same DNA, delivering excellent handling, peerless performance, and unrivalled dynamics."
Pendine Sands is on the southern coast of Wales and has been a venue for racing events. It's also famous for speed record runs. And it was none other than Sir Malcolm Campbell who made a record run with his Blue Bird. Fitting that Jaguar's Project 8 used for the feat is also blue, isn't it? And at a rated 200 mph, it's on paper a fair bit faster than the original Blue Bird, too.