Volkswagen's brilliant SUVW line of products hasn't just received great reviews; it has, as its consistently strong sales performance exhibits, been the reason for steady footfalls across its 150+ dealerships in India. This doesn't mean that the German carmaker has abandoned the sedan segment — not by a long shot. One would think that since it's a relatively small segment, with only a handful of cars and not too many takers, most brands would not give it much attention — but this is Volkswagen we're talking about. It has always gone against the trend to offer great products to its customers, and this time, too, it isn't looking at rewriting the rules — Volkswagen is ready to change the game altogether.
How's that going to happen? With the all-new Volkswagen Virtus, of course. As anyone who's observed the modern car industry for a few years can attest, to make a mark, even for a well-established carmaker like Volkswagen, the product needs to be not just new but excellent in every possible way. While offering exactly what the customers want is imperative, the Virtus will need to surprise them with things that they wouldn't even have imagined in a car from this segment.
Let's start with its brilliant design. It's a genuine three-box sedan and not a hatchback that's been converted to look bigger, or a crossover that masquerades as a low-rider. Most importantly, it's been made by a team that understands the importance of styling. There's the easy grace that only a sedan can offer and its proportions are the best in its class — it can turn heads all day long, and always for the right reasons. If you happen to be leaning towards the top-of-the-line GT trim (and you should), you'll be glad to know that Volkswagen has taken the styling up a notch with this variant. The blacked-out treatment for exterior elements might sound like something inconsequential, but in reality, it brings out the best in the Virtus' top-notch design.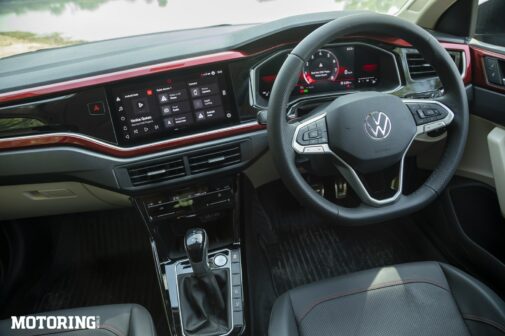 What's a good exterior if the interior, where you're going to spend all your time, isn't great? No such worries here, since the Virtus' cabin mirrors its exterior in terms of great design; it's big on interior comfort and features as well. It cossets its occupants with its class-leading, supremely comfortable, feature-rich, and spacious cabin; it glides on roads good and bad thanks to the well-balanced suspension setup; and when you want accompanying music to make the drive more complete, it offers aural satiation with new-age connectivity suites, including Volkswagen's very own Wireless App Connect, with the ability to charge your latest and greatest smartphone wirelessly. Its interior space (and, not to forget, its whopping 521 litres of boot space) and creature comforts like ventilated seats and automatic climate control are talked about a lot, but the Virtus lays equal emphasis on occupant safety. It doesn't just have a solid structure; the latest car to proudly bear the Volkswagen badge also gets up to six airbags, multi-collision brakes which can minimise the extent of a road traffic collision, and ESC, which smartly detects slip and adjusts power sent to the wheels, to ensure progress is made effectively regardless of the road conditions.
The most significant reason behind the Virtus being our choice will always be the way it drives. Both the turbocharged petrol engines on offer, the 1-litre and 1.5-litre, have exhilarating performance without compromising everyday drivability or fuel economy. The 6-speed manual is a joy to use on the 1-litre TSI Virtus; the 6-speed torque converter makes the 1-litre TSI model even more convenient. For those looking for absolute power, the 1.5-litre engine, with its 7-speed DSG transmission, is most definitely going to be the go-to choice. No matter which of the three you choose, though, you can't go wrong.
That's the thing with the Virtus. It's not just an excellent car — it's an accomplished product. It's advanced in what it offers, elegant in the way it looks, and sophisticated in the way it drives. It is exactly the kind of car that changes the game.