What does one do when life gives us a predefined path to tread upon? One can either take it upon oneself to do their best and give the world the finest performance ever seen to date while staying within the lines, or one can break free from the shackles of adhering to the path and forge a new course altogether. Either way, what ensues will surely result in something to be remembered for years to come.
Getting back to the matter at hand, the two vehicles we have with us today come from the stables of two manufacturers that have at certain points come up with extremely capable dual-purpose machines (although one of them withholds from putting them into production). That being said, the Tata Punch has been praised many a time by my colleague Rivan on how surprisingly capable it is. The TVS Ronin itself has seen a fair deal of compliments from my end (none being in the looks department). Going by how TVS decided to brand it as an #Unscripted motorcycle, it only made sense to see how well it would handle spontaneity.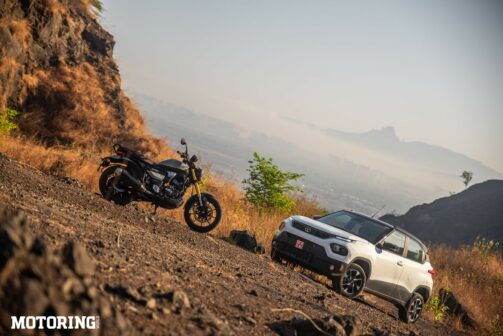 Starting off with the Punch, based on the same ALFA platform as the Altroz, the micro-SUV seems to put that 1.2-litre petrol engine to better use with improved low-end torque. It isn't exactly petite, as one would expect of a micro-SUV, micro being the point of assumption here. For what it is, it does get quite a butch stance, probably cashing in on the SUV DNA from Tata. And with ground clearance figures of 187mm, it sure seems to have inherited a good deal of the 'fun' genes.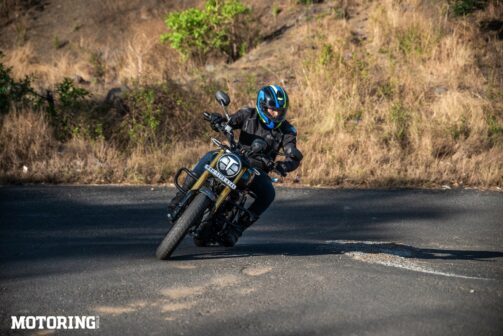 The Ronin has been quite the regular in our ranks ever since it was launched. The 225cc engine from TVS is as tractable as they come, and delivers quite the kick, capable of a fair bit of fun on one wheel too, if you know what I mean. Having put it to the test on a timed gymkhana course against the Hunter 350, riding it down to Goa on a long haul, and even witnessing it in its flat-tracker form, this ugly duckling seemed to be turning into a swan after all.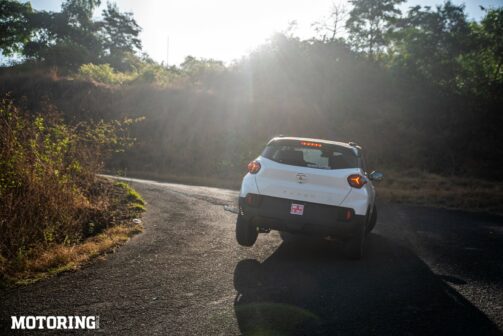 On the way to the shoot location, I did start to have second thoughts on whether the two would be a good match, or whether there would actually be any comparison at all. This worry was pretty short-lived and vanished as soon as we left the tarmac behind. By the trail of dust that we left in our wake, one could tell that both these machines felt as much at home on the dirt and sand as would any other proper dual-purpose vehicle. But how much of that stands true from the perspective of the person behind the controls?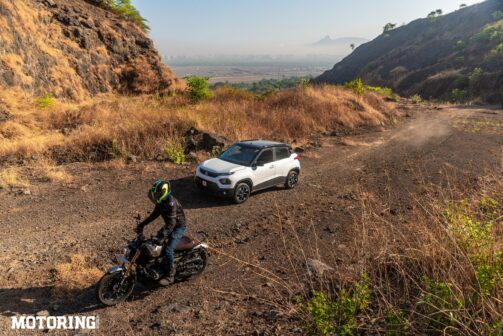 However much I loved the way the Ronin behaved (or misbehaved) off-road, I do have a bone to pick with that gigantic fuel tank of its. Being as big as it is, there's an awkward amount of it between one's legs, and not really much recess to grip onto comfortably. Likewise, with the Punch, the AMT did feel like it was robbing that torquey 1.2-litre engine of a bit of character. This is even though I know by experience that the manual transmission option wouldn't be my first pick either. Not everything can always be a hundred per cent.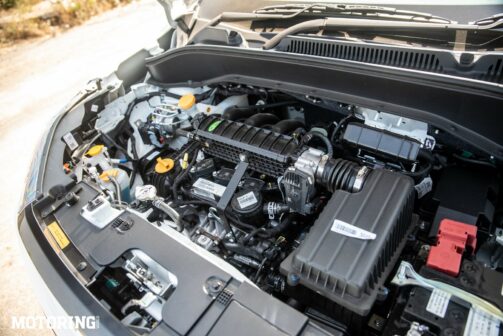 Now on to the bits that I loved on both, the Ronin, as well as the Punch, are both remarkably comfortable as far as ride comfort goes. The seats are well cushioned and contoured, while the suspension setup on both vehicles does a good job of ironing out most undulations. As far as tech goes, both the Ronin and the Punch are fairly well-endowed. The Ronin features a Bluetooth-enabled all-digital instrumentation console with turn-by-turn navigation, top-speed read-out, battery voltage, and call/message alerts. The Punch gets a 7-inch semi-digital instrument cluster, a 7-inch infotainment touchscreen and a Harman-sourced four-speaker, two-tweeter sound system.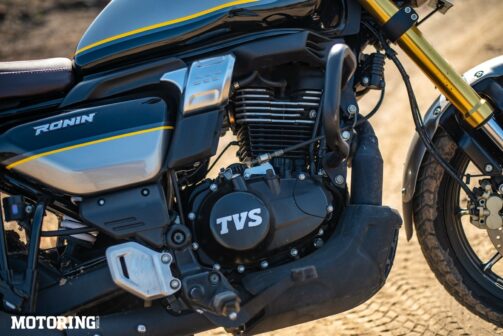 Both the Punch as well as the Ronin fare exceptionally well on the tarmac, in traffic and now off the beaten path too. They both handle surprisingly well, with the confidence-inducing effects of being able to go exactly where one points. A good deal of initial wheelspin, then as it grabs onto fistfuls of dirt, gains traction and furiously pushes onwards. There's the feeling of wild instincts kicking in every time one opens the throttle or floors the accelerator that is common to both. And considering this is the sort of response from these supposedly mild-intentioned machines, I could really get used to owning either.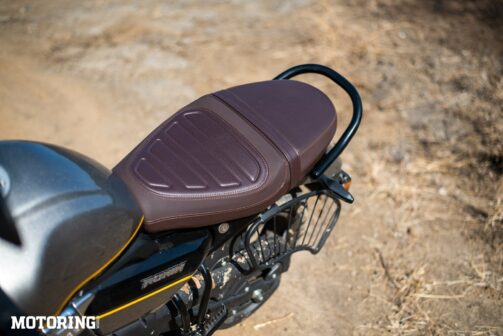 The Ronin has a lovable burbling exhaust note that turns aggressive and lets out a few pops and crackles when urged to. The Punch also has a very subdued exhaust note that opens up as one climbs up the rev ladder. Surely, this should be a prompt indication to egg on both vehicles to see how fun they can become when on edge. Sometimes the bark demands the bite to be fierce too and both the Punch and the Ronin seem to exemplify that sentiment.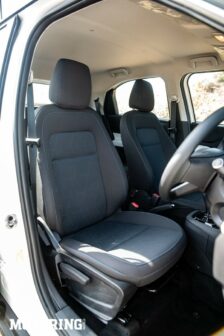 There are quite a few parallels to draw between the two, but the most obvious would be the versatility of both vehicles. But we are more interested in testing how much of straying from the path they could tolerate, as one might have deduced. I for one don't really have a preference between the two, being a sucker for anything with wheels and a motor. Heck, give me a chainsaw and I'll be daydreaming of some way to turn it into something I can ride or drive around in my backyard. My colleague Rivan on the other hand seems to be allergic to anything with two wheels, but that didn't stop us from strongly insisting that he ride an electric kick-scooter recently.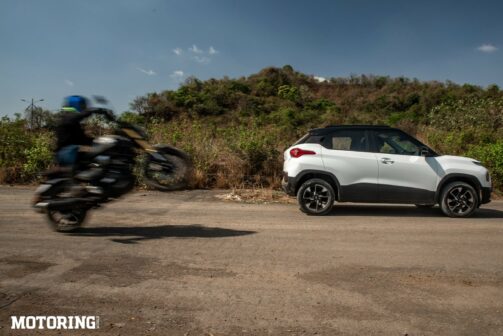 He too admitted that the Ronin seemed like a fun thing all-in-all. And I won't shy away from stating that the Punch is surprisingly agile and athletic for what it is. It seems like the engineers behind both vehicles seemed to have a similar vision in terms of what each would be capable of. Either that or it just happened to be a happy coincidence, and we are all the more grateful for it anyway.