It is a bit of a Möbius-strip situation to consider that the first RC 390 came before KTM ever made it to MotoGP. In any case, the Austrians are well within their rights to reclaim their solitary production faired motorcycle to fall in line with what Brad Binder does on most Sundays of the year. An all too familiar single-cylinder vibe greeted me when I pushed the starter button. Perhaps a bit too familiar, because as much as I appreciated what it has done for me and thousands of others, I didn't get why it still reminded me of 2012 when I first met it. I mean, it was never a earful of Beethoven, was it?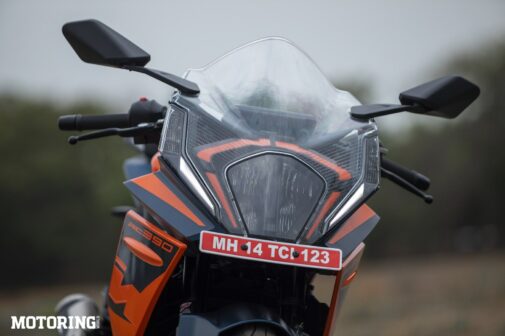 KTM has made that potent motor for over ten years now, and I live with it every day in my 390 Adventure, but I've always thought it lacked the finesse that comes innately with, for example, Japanese bikes. Then again, our bunch of KTMs are made by Bajaj a couple of hours from my home, and not in Austria. Nonetheless, when a rider launches an attack on a corner, the only characteristic of the engine that matters is how fast it can get them into and out of it. And in that crucial in-between space, where things are made and unmade, the new RC 390 makes all the difference over its predecessor.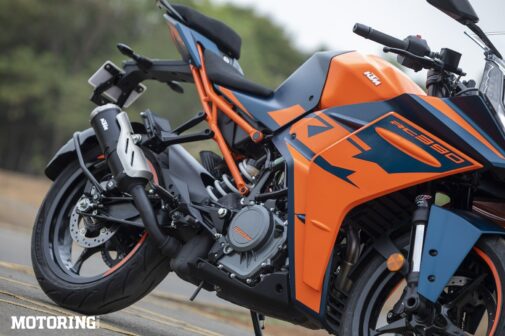 Since I was riding damaged (you can read about it in another story), it was quite nonchalant of me to expect braking into a 165-kph corner to be easy. And yet, that's more or less what it was, where the older RC 390 would've made it way more difficult. The new one, though, is a far more sorted motorcycle and it easily lets the rider extricate themselves from the trouble that they got into, as I understood over and over again. And it was all thanks to a series of changes, some very obvious and others not so much.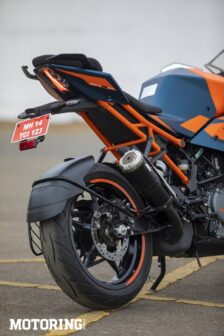 KTM has more or less turned the RC 390 inside out in the quest to make it friendlier. The split trellis frame from the 390 Duke finally makes it to the RC, bringing weight savings with it. The wheels are lighter and of a new design as well, and along with the new brake rotor and hollow front axle, they reduce unsprung mass to improve handling. A 40 per cent larger air box helps with improving torque and optimising power delivery, while the colour TFT screen from the other 390s makes an appearance here as well. The clip-on 'bars are now adjustable by 10 mm, depending on how much of a racer's crouch the rider prefers. And despite carrying 3.7 litres of more fuel than before, the RC 390 is lighter overall by 1 kg. Not much? Let me tell you, it makes all the difference in the world.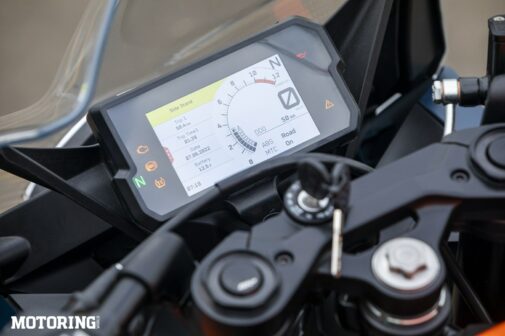 Yes, thanks to that eternally enthusiastic motor, the RC 390 was still an entertainingly fast motorcycle. KTM says it now does 0-60 kph in 2.7 seconds and 0-100 kph in 6.3 seconds compared to 3.2 seconds and 7.1 seconds for the older bike. In the first two gears, hard on the throttle, the motor could force the traction-control light to flash hard, and it was good to acknowledge its presence. The ride-by-wire throttle now had the same feel as the other 390s, while the clutch was light, almost too much so. In any case, banging up the gearbox still sent the RC 390 screaming forward in that familiar and delightful way that is still addictive, even more so when the setting involves clip-ons and rearsets. The RC 390 is still very much a giant-killer, although it now prefers not to shout about it.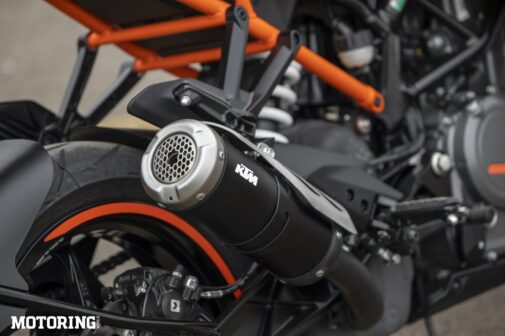 That's because that speed is now guided by a finer sense of precision and stability. The RC 390 slotted that racing-line thread through the lap-time-needle's eye almost without a thought. And if one were to actually pay attention to things like reference points and braking markers, the RC 390 would be a devastating tool, indeed. Even I, who more or less wings it out on a track, could feel the greater potential of the new RC 390. The point is, whether you ride with instinct or deliberate thought, the RC 390 is now faster in both ways.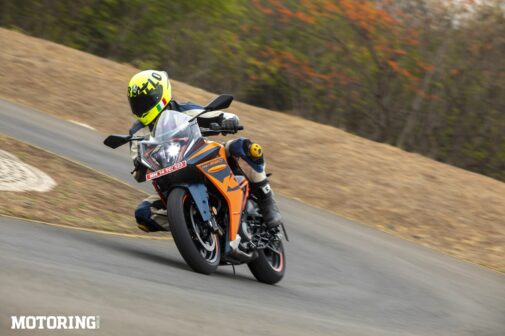 Hard braking didn't feel like the end of the world, even if the front end dived more thanks to the increased suspension travel; the slipper clutch, the revised weight distribution and the marginally longer wheelbase kept the RC 390's wheels in line. And no matter how hard I pushed it on the brakes, steering effort was always minimal, which allowed me to put the bike exactly where it needed to be. That automatically gave me the confidence to go faster and faster — and that's what a proper sportsbike is born to do. The downside of that confidence was that I was soon able to feel the stock tyres giving way under the weight of my physical self and the motorcycle's newfound abilities. I don't think anyone would feel it much on the street, but a track rider will likely be seen throwing the stock tyres away very soon.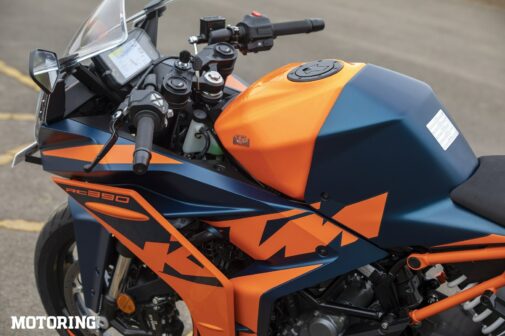 Also, there was quite a bit of room for me to move around on the bike, from side to side, as well as fore and aft. However, when I tried to grip the tank panels with my knees, there wasn't much grip for my leathers; perhaps a textured finish in that area might help, or outright traction pads. As it was, I kept slipping forward during braking, and that forced me to back off and brake smoother than I normally would. I also found, like on my 390 Adventure, that the quickshifter worked best when it was kept turned off. KTM has to sort out the basic shift quality first, before an electronic aid can make it even better. But that's about it for the niggles.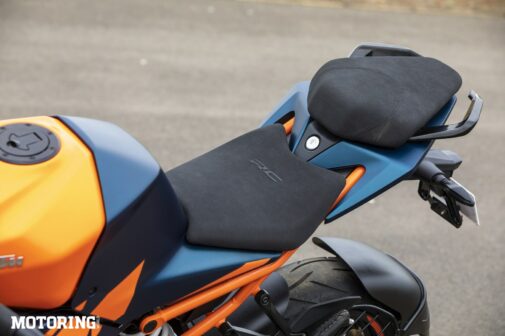 The fan-favourite motor also gets the updated bigger radiator, the electronics package from the other two 390s, and a host of other refinements, too. These, combined with the increased suspension travel at the front by 10 mm and the rear by 17 mm, and the adjustable clip-ons, should make it easier to live with on the road as well, and perhaps add a bit of touring ability to the sporty package as well. As for the looks, well, as with almost every KTM, it's not everyone's cup of orange tea. But we don't buy KTMs for their beauty, do we? No, not when nothing else comes even close to the 390s' mix of performance and value. That said, I still hope to see the day when a KTM stops traffic for the right reasons.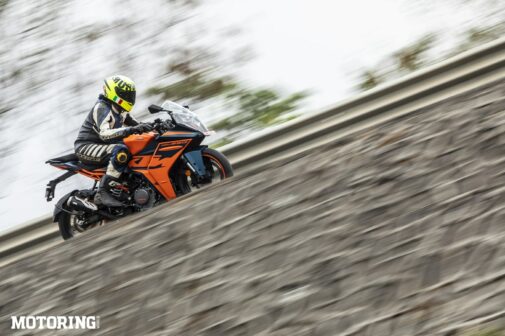 Even so, the RC 390 is not without its merits when it comes to aesthetics. The redesigned flanks do look racy as heck, and I quite like that orange/blue combination. The new wheel design and front brake rotor look quite trick as well. The now-generic tail, though, isn't a patch on the older RC's fantastically original idea which created the illusion of it being a single-seater. As compensation, there's a MotoGP-esque mesh on the exhaust tip which is quite a nice detail, even if the exhaust itself is a bit weedy. As for the face, I still can't make up my mind about it, so I won't.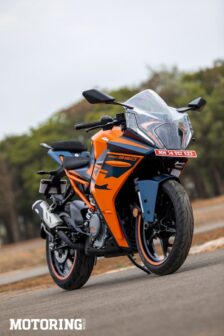 The new RC 390 comes with an increased ex-showroom price of Rs 3.13 lakh, which I believe is worth it. Nothing at this price can beat the RC 390's speed and precision. And nothing makes speed come alive quite like a faired sportsbike. What's more, it'll likely be easier to live with in the real world, which only makes that deal look better. The new updates finally bring the RC 390 up to date with its two siblings, and make it the raciest option available for KTM MotoGP fans. It's all set for BB33 stickers and a high-rpm launch off the next traffic light.
MOTODATA
2023 KTM RC 390
POWERTRAIN
Displacement:
Max Power:
Max Torque:
Transmission:
373cc, single
42.90 bhp@9000 rpm
3.77 kgm@7000 rpm
6-speed
CHASSIS
Type: Split trellis frame
BRAKES
F/R: 320-mm disc/230-mm disc
TYRES
F/R: 110/70 R17 / 150/60 R17
DIMENSIONS
L/W/H (mm):
Wheelbase:
Ground Clearance:
Seat height:
Kerb Weight:
Fuel Capacity:
NA/NA/NA
1347 mm
153 mm
835 mm
172 kg
13.7 litres
PRICE
Rs 3.13 lakh (ex-showroom, Delhi)