By now, through these very pages, we've established that India has no lack of talented custom bike builders. Almost all of that talent, however, is directed at visual and/or thematic enhancements. And what we have here aims to change that — and set a time for future builders to beat, no less! It's not immediately apparent, but this is a Continental GT 650 after diving into that heady quest for straight-line tunnel-vision speed on the drag strip. Built by Bangalore-based Indimotard, it's called Dunaali, the Hindi word for 'double-barrelled shotgun'. And given that it secured a podium on its maiden run at a drag-race event, it seems to be just as explosive as its namesake, too.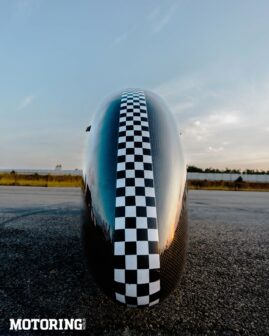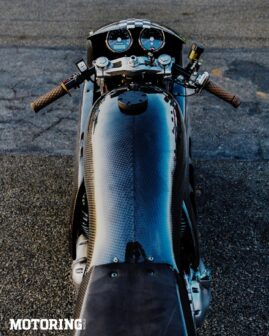 Drawing inspiration from the near-mythical Munro Special of The World's Fastest Indian fame, and the more recent Sprintbeemer by The Lucky Cat Garage, Dunaali shrouds itself with an absolute stonker of a speed fairing, the kind you'd see on the landing gear of fixed-wheel aircraft. That fairing, the tank and the rear seat and cowl are made of carbon-fibre, keeping weight as low as possible. Indeed, this fixation on weight reduction was prevalent through every part of the build. The engine parts as well as the frame and suspension were weighed and lightened using CNC-machined parts and titanium nuts and bolts wherever possible; overall, even with that massive fairing, the Dunaali weighs just 168 kg!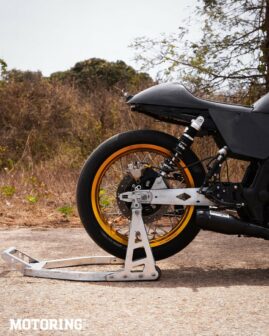 And to make that lessened weight count for more, this trick special also got a number of go-faster parts like high-compression pistons from S&S, a Rekluse clutch, a high-lift camshaft, bigger fuel injectors, a ported and flowed head, velocity stacks, a piggyback ECU, a UMA Racing quick throttle, and all of that topped off with Indimotard's own custom-built two-into-one Greasehouse exhaust. The moral of the story was that the Dunaali recorded 62.2 bhp at the rear wheel on a dyno run, and we can't even imagine what it must feel like tearing down the drag strip where it clocked a quarter-mile time of 12.1 seconds in the hands of Lani Zena, a 25-year-old female racer whom you see with the Indimotard team in the group image.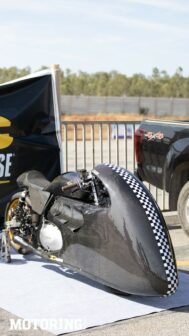 Of special mention is the fact that this was achieved with the minimal use of imported parts — not something to be brushed off lightly, that. None of this is possible without the people who make motorcycles, of course. And on that note, we'd like Anand Dharmaraj to pay tribute to his great friend and partner at Indimotard, the late Prashanth Kumar.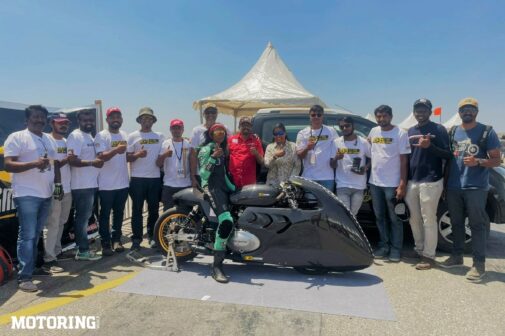 Prashanth Kumar, or The Nomad, as he is usually referred to probably has more history than the number of years he actually lived. How do you summarise that story when you know that this amazing soul needs more than a few books to capture even an iota of what he represented to the motorcycling world and more? My journey with him began in 2002. It's been 20 years and yet I feel I didn't know enough about him.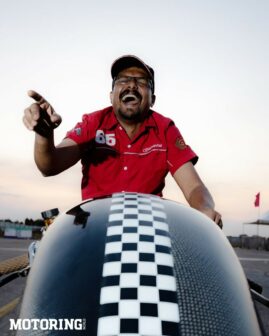 In 2006, Prashi said, 'Anna, let me take you to the Himalayas.' In his classic style he said, 'Everything is sorted.' A train journey later, our ride began in the seedy lanes of Karol Bagh. A blue Royal Enfield 350, a signature, and the keys to freedom were handed over. The ride took us into the mighty Himalayas which rose up above us, the blue skies waving us on, and the mighty Sutlej roaring to greet us through the twisties.
I found Prashi the rider, the organiser, the guide, the man who knew everyone, the man who could fix anything, my brother in arms. We rode miles and miles, scraping pegs on the mountain roads with 300-foot drops on one side. We rode in the rain and the cold, one behind the other. We stopped at a chai shop, gave each other a hug, a high five, and said to each other, 'You can ride!' I knew then that our journey had just begun. But I didn't expect it to come to such an abrupt cruel end. It was such a short time for Prashi, a life taken too early. I miss him dearly, and I think the motorcycling community will miss him, too.