I had heard tales of the legendary Pune Off-Road Expedition long before I joined Motoring. Organised diligently every year in Pune by 8moto India, with Varad and Sangram at the helm, I was more than happy to be able to take part in it this year. Wild stories of men, muck and machines (in no particular order of occurrence) engulfed my thoughts, and sparked the flame of imagination once the dates were announced for its ninth edition. As I was trying to decide which steed would be deemed worthy to bear the brunt of this endeavour, Kartik told me about his Rajdoot 175, the 'Doodhwala' bike, that was in Pune. He told me about this idea he had nursed for so long, to take the motorcycle, and put it through the gruelling course of the Pune Off-Road Expedition.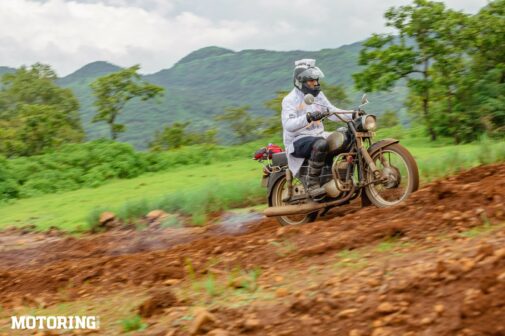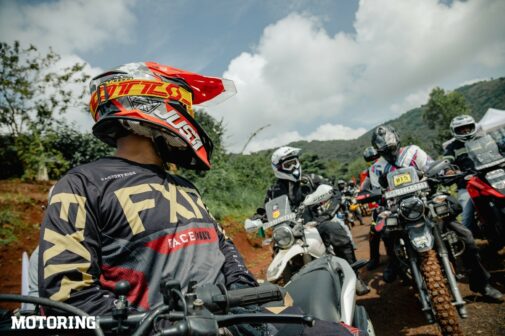 I practically pounced on the opportunity, and convinced him that I should be the one to fulfil his quest. After all, this was the motorcycle that represented rural India for many a decade. It had seen terrain of varying intensity, and more importantly, conquered it all, long before all the fancy off-roading motorcycles even got a whiff of it. This beast of burden with Polish origins was a roaring hit in its day because of its simplicity and reliability. Its eager nature to haul anything and everything made it the obvious choice for milkmen hauling inordinate amounts of milk cans and puttering along without a fuss.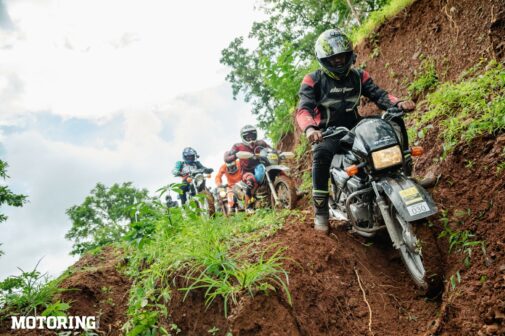 Now if I was to do it, I had to do it right, and this called for a full costume run. A white kurta and the accompanying 'topi' was a must, but it had to have our Motoring twist to it for full effect. Hours of brainstorming (and a box of coloured markers) went into the design and creation of the new Motoring World off-road jersey and we were damn well pleased with it. Next in line was the bike itself (one would think that should come first).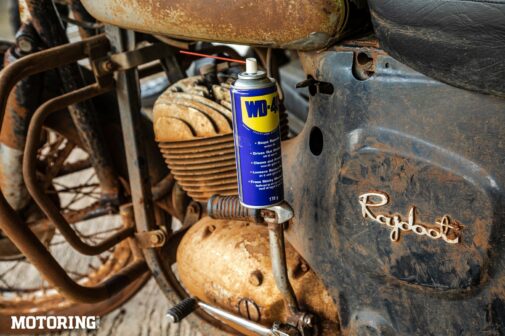 It had been standing idle in Varad's garage for quite a long time, and that initially had me a bit sceptical. But the beauty of these old machines is that sometimes, all it takes is a bit of love, and some elbow grease, to bring them back to life. A simple cleaning of the carburettor and the fuel filter, a little tape here and there, and the Rajdoot roared to life like it had awakened from a long nap, and was ready to be put to work again. A tankful of fuel, and we were on our way to the event venue.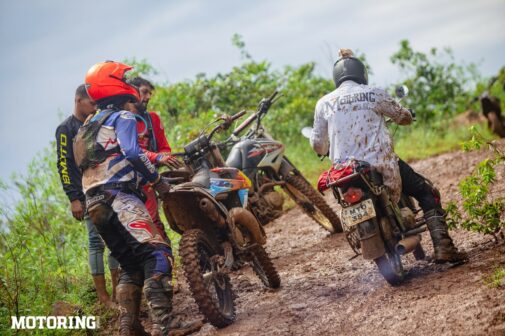 Day one: Dairy run
Upon arrival at Panshet, the Rajdoot was subject to a lot of attention. You could see the nostalgia associated with the bike because somehow, almost everyone had an uncle who owned one at some point. And then there were others who looked on in bewilderment for they hadn't set eyes on such a machine ever before, and the outfit I was wearing was the bright neon cherry on top.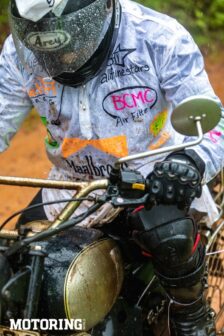 The first day consisted of a trail experience through the dirt, rocks, and slush, with a spot of rain to complete the package. I was initially very gentle with the bike as we set out, but once I felt how comfortable the bike was on the terrain, I started pushing it. I kid you not when I say the Rajdoot practically flew past the others who were struggling to find footing. Uphill, downhill, on ledges, over rocks and boulders, through water crossings and slush pits, you name it, this machine was taking everything head-on, and emerging victorious every single time, like a Terminator with wheels that cannot be stopped. It was glorious, and everyone who witnessed it acknowledged it, too.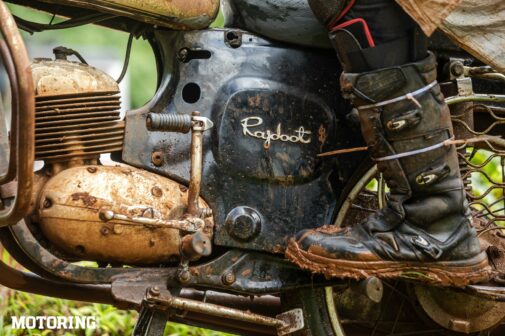 Soon, we stopped at an open clearing for lunch, and conversations started flowing with the other riders as we grabbed a bite. Questions were in abundance as to how old the Rajdoot was, and how much of a nutcase I was to have brought this bike for the event. Well, from where I was standing, everyone else who missed out on the opportunity to blaze the trail with a Rajdoot 175 was a sucker who didn't know what they were missing. And I was on a mission to show them exactly what I meant.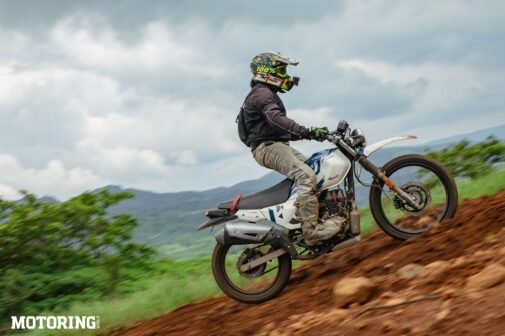 With a renewed vigour, I charged forth, and soon came across another water crossing. This time I went for a proper splash, and suddenly, the Rajdoot sputtered to a halt. I was shocked at the sudden change of heart from this trusty steed as I tried to figure out what went wrong. Janak came up beside me, and helped point out the issue. In my excitement, I had totally forgotten that the Rajdoot came with a points ignition system, and thus, the over-enthusiastic splash put it out of action, if only for a little while. A few 40 kicks later, it roared to life once again, and we were back in business. We soon caught up with the rest of the riders as we came to a huge waterlogged slush pit. Having become a tad bit wiser after the first mishap, I gingerly navigated around this obstacle and watched as everyone else frolicked around in the mud.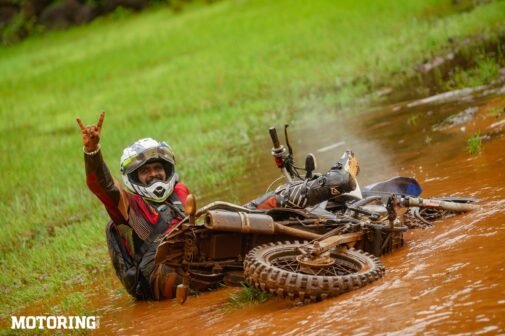 The rains soon stopped, and we pushed on toward the final few stretches of the trail. Not too far from the finish, I realised that the bike was behaving a bit oddly. The front-end seemed to have developed a mind of its own, and was slipping and sliding around quite a bit. I looked down and, to my absolute astonishment, saw that the front wheel had locked up, while the rear wheel was still dutifully pushing on, totally oblivious to the fact. As the rain stopped and the mud started sticking together, it had managed to pack itself into the inside of the front mudguard, and render the wheel immobile.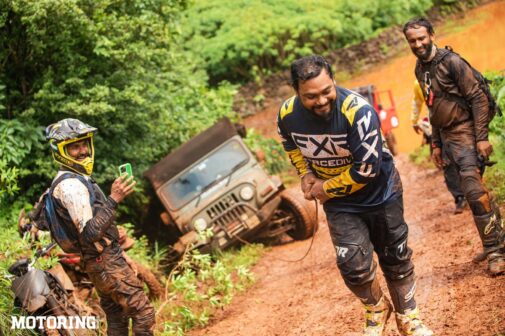 The next few minutes saw me prodding at the mud with a stick, and when that didn't do much in terms of clearing the obstruction, I had to sacrifice my lucky bandana. I filled it with leaves from a nearby tree, rolled it up and tied it to the wheel. A good strong pull and the mudguard was totally free of all obstructions. With that taken care of, I quickly completed the remainder of the course, and headed back to our accommodation for some rest.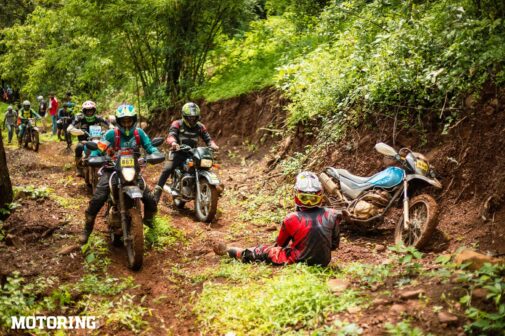 As night descended I began to witness the biking community gathering to take stock of the day's revelry, and regale each other with tales of adventures past. One could see the amused smirks, and the twinkling eyes, as each one relived their many escapades. I soon retired to my room to rest and prepare in anticipation of what was to come the next day.
Day two: A day of rest
The next morning we set off for the hill-climb event after a hearty breakfast, and upon reaching the spot, I made the sensible decision to let the Rajdoot sit this one out. With the state of the tyres and the extent of the incline, it didn't seem to be such a good idea to go through with it. I, instead, decided to have a go at it on our long-term Xpulse 200 4V, which had been neatly tricked out by Yogi.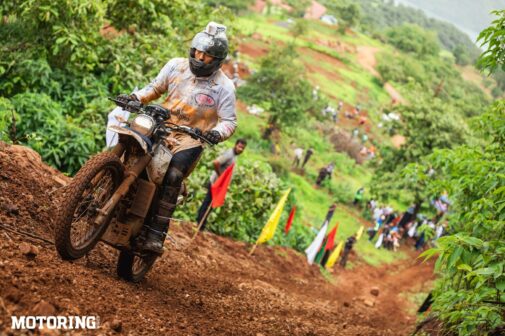 The Xpulse is a wonderful bike in itself, but with the reduced weight after getting rid of all the unnecessary bits, it was absolutely marvellous. It did the hill climb with grace, and that, too, with me at its helm. We saw many others fly to the top with souped-up dirt bikes, two-strokes, a modded Royal Enfield Classic 500, and more such machines. There was also this kid on his little dirt bike who almost made it all the way up. Starting them young is the right way to go — I say well done to the lad's parents.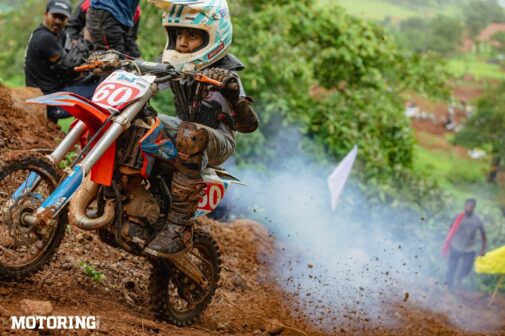 The whole atmosphere was so euphoric, I was really tempted to try and source a pair of knobbies for the Rajdoot, and take it up that hill. And I'm pretty sure it would have been able to do that without even breaking a sweat, but sadly that didn't happen. As the hill-climb event came to a close, we then moved on to the Enduro event. But, just as we were halfway to the starting point, we decided to make a halt. The few riders who had gone ahead of us seemed to have gotten stuck, and didn't seem to be able to find a way out.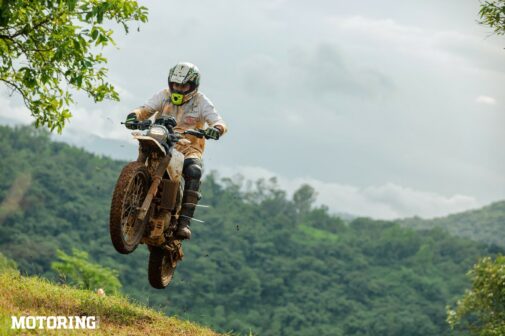 This only goes to show how treacherous nature tends to be sometimes. As we sat and waited, someone discovered a jumpable mound right there, and soon everyone was taking turns and getting a little airtime on their bikes. Again, this just proves that bikes and friends make for some really fun times, no matter what the situation.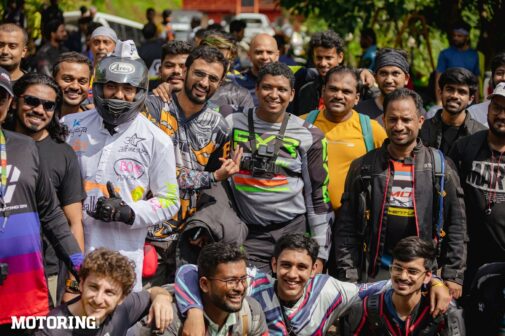 As the Pune Off-Road Expedition came to a close, it was quite a bittersweet moment. The new friends made, and the brilliant experience we had, is something I am sure everyone will cherish. Ultimately, one realises that it's not just about bikes, or how quickly, or how skillfully one rides — sure that helps loads, but it's all about fraternising and coming together as a community with a common love for these machines, and the adventures that they entail. So until next year, and hopefully many more after that, this is the Milkman signing off.