I was right on the tail of the rider in front of me at C3, and as soon as I crossed the apex, I got on the gas a moment earlier and a small twist more, hoping to make a pass on him. Little did I anticipate how quickly the RC390's mill loves to rev up, causing its tail to break traction. With the rear suspension all bottomed and the rear stepping out and gripping back again, I was in for a perfect scenario to experience a high side, putting an end to my race weekend. Not what I had planned in the first few laps into the practice session of the inaugural KTM RC Cup Championship here at Madras International Circuit (MIC). Fortunately, I managed to control it and keep things on two wheels for the rest of the session.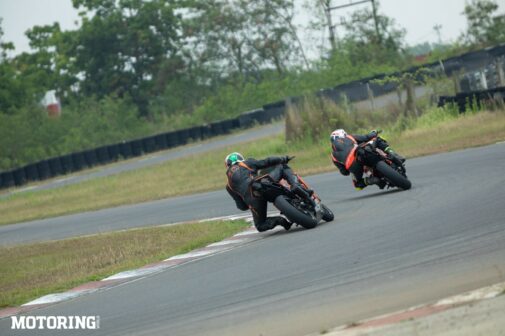 Before I tell you how the rest of the weekend turned out, let me give you a quick low-down on KTM's one-make championship. Open to only KTM owners, after conducting eight qualifying regional rounds in different cities, the top ten fastest riders from each city were present to compete further for the finale. That's a total of 80 riders competing for top guns to claim the championship title. Now, it would be impossible to have the entire batch of 80 riders race at once on a track. So, to avoid that chaos, the riders had to go through Superpole qualifying, followed by a conventional qualifying session before the first of the three races for the race weekend.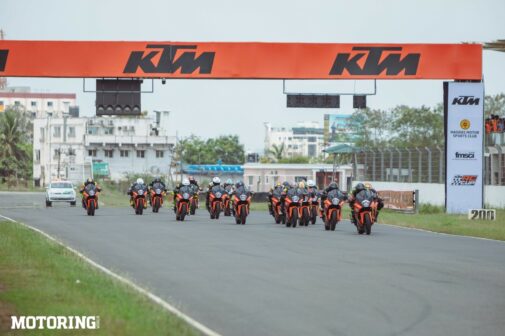 Coming back to the media race, it was a rather conventional setup with a typical qualifying session after two practice sessions, which was followed by the main race. After not just one but two scary incidents in the first practice session, I decided to take it easy for the second practice session, paying more attention to what I was doing wrong rather than trying to clock the fastest lap time possible. While the top professional racers were clocking sub-two-minute lap times, I managed to clock a best lap time of 2:10.558 during the practice session. After correcting some of the mistakes that I was making, I managed to shave two seconds off my timing during qualifying (2:07.480), securing a front row, third position on the grid.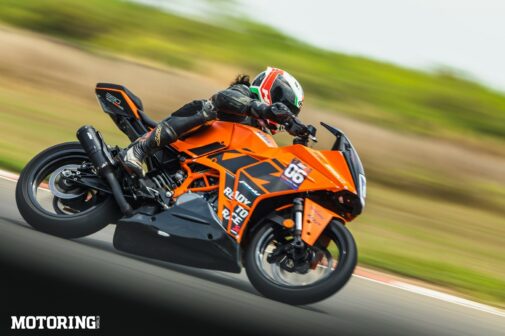 Although the entire grid consisted of fellow journos, for the next five laps, some level of competition was bound. I wasn't concerned much about Sagar Sheldekar in P1 and Vikrant Singh in P2, simply because the former is a seriously fast guy, and the latter is very clinical and consistent about his lines at a racetrack. I ain't either, so they needn't worry about me for the least. But, it was Deepak Vishnu, riding at a similar pace as mine, who had clocked a qualifying time that was less than half a second of mine. So, having noted my competition, the lights come on and go out. It's race time. With a good start, I managed to square up on Vikrant, but couldn't get ahead as we entered into C1. Halfway through the first lap, I tried to keep up with him, but given his pace, he was steadily building a gap corner after corner. For the next lap and a half, I kept pushing to maintain my position, but as expected, Deepak had closed in by that time and at C11, made a pass and got ahead.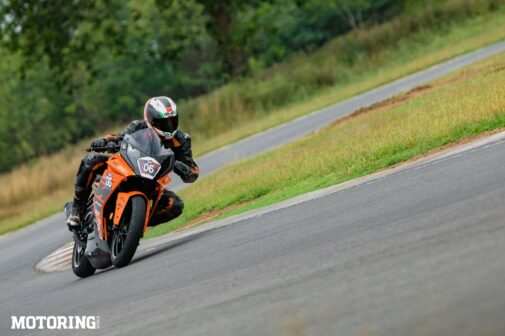 Throughout the third lap, I kept pushing but Vishnu managed to creep ahead and eventually even made a pass on Vikrant at C1 in lap four. For a second, the thought crossed my mind that I could be looking at finishing the race without a podium. But this was just the start of the fourth lap, meaning two more laps yet to go. I kept telling myself, 'Push harder. No stupid mistakes.' While Deepak and Vikrant were caught in a dogfight, I managed to close the gap between them by the end of the lap and made a pass on Vikrant. I won't lie, I was under tremendous pressure as I saw the last lap board at the start-finish line.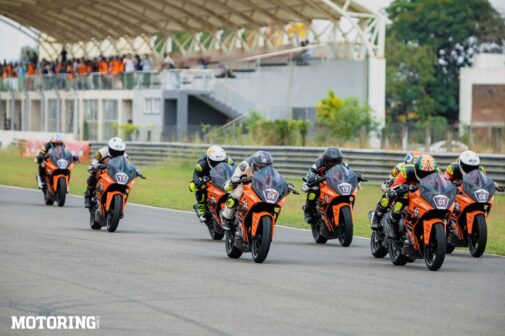 By now, I had started to feel tired, but I was determined to not let any of that get in my head. 'Just keep pushing. Defend', is what I constantly kept telling myself. It wasn't easy to perform under that pressure, as I did make an error or two, and if Vikrant wanted to, he could have taken advantage of it. I think, maybe, my agitated efforts to defend my position might have made him delay his attack. As we approached the last corner of the final lap, I had the chequered flag in sight, but at the same time also noticed Vikrant coming up beside me on the outside. It came down to a fraction of a second between us at crossing the finishing line. I had succeeded in keeping that third position, claiming that podium finish after fighting throughout the five laps. And to add to it, I had also managed to clock my fastest-ever lap time of 2:06.793 at MIC.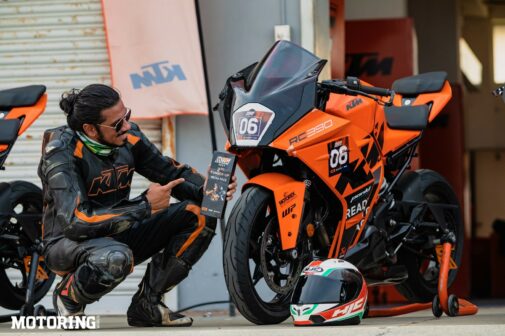 In hindsight, what I can take away from this race is that it is important to have healthy competition in everything that you do in life. It is a human quality that is crucial in order to bring out the best from within. It is something that we all can do, despite the odds that are present. As long as you have that thought in place, you are destined for success. Now the fight begins in maintaining what's achieved, while continuing the pursuit to get faster.